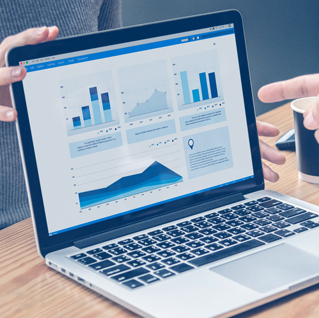 Digital technology is seen as a game changer in the Enterprise Resource Planning (ERP) industry but is only a means to an end. Social media, analytics and mobile are transforming the global landscape, real and virtual, and compelling enterprises to redefine their data lines with customers, partners and suppliers, the positioning of their products and services, and management of their operations. ERP, dovetailed with a compelling strategic vision, is poised to revolutionize enterprise outcomes.
Operational Excellence
ERP seamlessly integrates disparate operations, boosting productivity and efficiency, constructing collaborations among hitherto autonomous silos, and acting as a driver for accelerating business decision making. ERP is an outright competition enabler when propelled by a visionary approach that focuses on honing supply chain efficiencies, cutting costs, and capturing real time business intelligence. ERP solutions facilitate adaptability to change, provide the benefits of uniformity, and encyclopedic insights into business performance.
True ERP Value
ERP is the bridge between what the business vision is and the technology solution, a single architecture with an all-inclusive menu (portfolio of services). Legacy ERP applications, integrated with modernized transformative applications, lead to a fusion of learned wisdom with innovative methodologies creating an agile knowledge and process powerhouse. ERP solutions sourced from leading product vendors with a proven track record will take implementing enterprises to the next generation of innovation.
Industry Specific
Every industry has its unique features and therefore, the elements of flexibility and scalability of the solution coupled with out-of-the-box thinking by ERP partners is a key component of a holistic solution. An integrated ERP solution has the ability to traverse the spectrum of enterprise functions seamlessly creating complementarity while concurrently focusing on measurement tools that demonstrate empirically the reduction of operating costs and economy in the cost of ownership.
Planning and MIS
ERP includes design of strategies that contribute to optimised deployment and management of materials, human capital and capital assets. In-built analytics tools that simulate diverse scenarios guide profitable decision making. ERP weighs up material availability, machine maintenance down time, and order schedules while suggesting the maximum advantage production schedule. ERP MIS includes standardized reports plus a report writer that generates ad hoc reports on command.
Globalisation Solution
ERP solutions are a boon for modern globalised businesses with headquarters, suppliers, customers, distribution centres, and production facilities located across continents. The solution integrates multiple languages, multiple currencies and multiple accounting standards. A flexible and scalable ERP also assimilates legacy and digital technology within its ambit.
Establishing of Protocols
For businesses with archaic practices, ERP will elevate the business from the bootstraps by establishing protocols that are in line with global best practices. Departmental silos will be dismantled, knowledge will be transferred from maverick individuals into the company domain and integration will become the mantra of the company. Top management will have a telescopic view of operational efficiencies in activities such as order fulfillment, on time shipment, vendor efficiencies and machine down time, sales realizations, cash management, and debt collection. Cycle times are effectively controlled thereby reducing operating costs and boosting profitability.
Enterprise Resource Planning